Civil Partnerships
The survey on Civil Partnerships
The survey on Civil Partnerships was established in 2018, following the entry into force of the law 20 May 2016, n.76.
It is an individual and exhaustive survey, which collects the data of all the civil partnerships established in Italy and the socio-demographic characteristics of the partners.
The survey uses the Istat D.3U model, compiled by the officer of the municipality where the civil partnership was established. The model collects the information about the civil partnership and the partners: date, common property regime chosen by the couple (joint or separated ownership of property), sex, date of birth, place of birth, place of residence at the time of civil partnership, marital status, level of education, occupational status, position in the profession, citizenship.
The main synthetic indicators and a set of analytical tables at national, regional and provincial territorial level are published on the data warehouse of the Institute I.stat.
Statistical tables are available on this site, with the main results of the survey, from 2018 up to the latest available year. An information note, setting out the main results, will accompany the update of the data.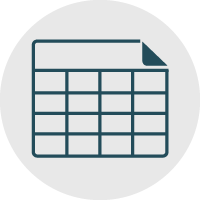 Statistical tables
Year 2021

Table 1.1
Civil partnerships: indicators - Year 2021
Table 1.2
Civil partnerships by sex; partners by sex and marital status - Year 2021
Table 1.3
Civil partnerships by marital status of the partners - Year 2021
Table 1.4
Mean age at civil partnership of the partners - Year 2021
Table 1.5
Civil partnerships in big municipalities - Year 2021
Table 2.1
Partners by marital status, sex and year of birth - Year 2021
Table 2.2
Civil partnerships by age class, marital status and sex - Year 2021
Table 2.3
Civil partnerships by marital status, education level and sex - Year 2021
Table 2.4
Civil partnerships by month of constitution - Year 2021
Table 2.5
Civil partnerships by education level and marital property system - Year 2021
Table 2.6
Civil partnerships by professional position and marital property system - Year 2021
Table 2.7
Civil partnerships by professional status and marital property system - Year 2021
Table 2.8
Civil partnerships by professional position and sex - Year 2021
Table 2.9
Civil partnerships by professional status and sex - Year 2021
Table 2.10
Civil partnerships by birth region of the partners - Year 2021
Table 2.11
Civil partnerships by residence region of the partners - Year 2021
Table 2.12
Civil partnerships by birth region of the partner2 and residence region pf the partner1 - Year 2021
Table 2.13
Civil partnerships by birth region of the partner1 and residence region pf the partner2 - Year 2021
Table 3.1
Civil partnerships by sex and type of couple - Year 2021
Table 3.2
Civil partnerships by type of couple, region and geographical repartition - Year 2021
Table 3.3
Civil partnerships with at least a foreign partner by the first 15 countries of citizenship - Year 2021
Table 3.4
Civil partnerships with both foreign partners by country of citizenship and comparison of citizenship - Year 2021
Table 3.5
Civil partnerships with both foreign partners by the first 15 countries of citizenship - Year 2021
Table 3.6
Civil partnerships by type of couple and area of citizenship - Year 2021
Table 3.7
Civil partnerships by type of couple and education level - Year 2021
Table 3.8
Civil partnerships by type of couple and marital status - Year 2021

Year 2020

Table 1.1
Civil partnerships: indicators - Year 2020
Table 1.2
Civil partnerships by sex; partners by sex and marital status - Year 2020
Table 1.3
Civil partnerships by marital status of the partners - Year 2020
Table 1.4
Mean age at civil partnership of the partners - Year 2020
Table 1.5
Civil partnerships in big municipalities - Year 2020
Table 2.1
Partners by marital status, sex and year of birth - Year 2020
Table 2.2
Civil partnerships by age class, marital status and sex - Year 2020
Table 2.3
Civil partnerships by marital status, education level and sex - Year 2020
Table 2.4
Civil partnerships by month of constitution - Year 2020
Table 2.5
Civil partnerships by education level and marital property system - Year 2020
Table 2.6
Civil partnerships by professional position and marital property system - Year 2020
Table 2.7
Civil partnerships by professional status and marital property system - Year 2020
Table 2.8
Civil partnerships by professional position and sex - Year 2020
Table 2.9
Civil partnerships by professional status and sex - Year 2020
Table 2.10
Civil partnerships by birth region of the partners - Year 2020
Table 2.11
Civil partnerships by residence region of the partners - Year 2020
Table 2.12
Civil partnerships by birth region of the partner2 and residence region pf the partner1 - Year 2020
Table 2.13
Civil partnerships by birth region of the partner1 and residence region pf the partner2 - Year 2020
Table 3.1
Civil partnerships by sex and type of couple - Year 2020
Table 3.2
Civil partnerships by type of couple, region and geographical repartition - Year 2020
Table 3.3
Civil partnerships with at least a foreign partner by the first 15 countries of citizenship - Year 2020
Table 3.4
Civil partnerships with both foreign partners by country of citizenship and comparison of citizenship - Year 2020
Table 3.5
Civil partnerships with both foreign partners by the first 15 countries of citizenship - Year 2020
Table 3.6
Civil partnerships by type of couple and area of citizenship - Year 2020
Table 3.7
Civil partnerships by type of couple and education level - Year 2020
Table 3.8
Civil partnerships by type of couple and marital status - Year 2020

Year 2019

Table 1.1
Civil partnerships: indicators - Year 2019
Table 1.2
Civil partnerships by sex; partners by sex and marital status - Year 2019
Table 1.3
Civil partnerships by marital status of the partners - Year 2019
Table 1.4
Mean age at civil partnership of the partners - Year 2019
Table 1.5
Civil partnerships in big municipalities - Year 2019
Table 2.1
Partners by marital status, sex and year of birth - Year 2019
Table 2.2
Civil partnerships by age class, marital status and sex - Year 2019
Table 2.3
Civil partnerships by marital status, education level and sex - Year 2019
Table 2.4
Civil partnerships by month of constitution - Year 2019
Table 2.5
Civil partnerships by education level and marital property system - Year 2019
Table 2.6
Civil partnerships by professional position and marital property system - Year 2019
Table 2.7
Civil partnerships by professional status and marital property system - Year 2019
Table 2.8
Civil partnerships by professional position and sex - Year 2019
Table 2.9
Civil partnerships by professional status and sex - Year 2019
Table 2.10
Civil partnerships by birth region of the partners - Year 2019
Table 2.11
Civil partnerships by residence region of the partners - Year 2019
Table 2.12
Civil partnerships by birth region of the partner2 and residence region pf the partner1 - Year 2019
Table 2.13
Civil partnerships by birth region of the partner1 and residence region pf the partner2 - Year 2019
Table 3.1
Civil partnerships by sex and type of couple - Year 2019
Table 3.2
Civil partnerships by type of couple, region and geographical repartition - Year 2019
Table 3.3
Civil partnerships with at least a foreign partner by the first 15 countries of citizenship - Year 2019
Table 3.4
Civil partnerships with both foreign partners by country of citizenship and comparison of citizenship - Year 2019
Table 3.5
Civil partnerships with both foreign partners by the first 15 countries of citizenship - Year 2019
Table 3.6
Civil partnerships by type of couple and area of citizenship - Year 2019
Table 3.7
Civil partnerships by type of couple and education level - Year 2019
Table 3.8
Civil partnerships by type of couple and marital status - Year 2019

Year 2018

Table 1.1
Civil partnerships: indicators - Year 2018
Table 1.2
Civil partnerships by sex; partners by sex and marital status - Year 2018
Table 1.3
Civil partnerships by marital status of the partners - Year 2018
Table 1.4
Mean age at civil partnership of the partners - Year 2018
Table 1.5
Civil partnerships in big municipalities - Year 2018
Table 2.1
Partners by marital status, sex and year of birth - Year 2018
Table 2.2
Civil partnerships by age class, marital status and sex - Year 2018
Table 2.3
Civil partnerships by marital status, education level and sex - Year 2018
Table 2.4
Civil partnerships by month of constitution - Year 2018
Table 2.5
Civil partnerships by education level and marital property system - Year 2018
Table 2.6
Civil partnerships by professional position and marital property system - Year 2018
Table 2.7
Civil partnerships by professional status and marital property system - Year 2018
Table 2.8
Civil partnerships by professional position and sex - Year 2018
Table 2.9
Civil partnerships by professional status and sex - Year 2018
Table 2.10
Civil partnerships by birth region of the partners - Year 2018
Table 2.11
Civil partnerships by residence region of the partners - Year 2018
Table 2.12
Civil partnerships by birth region of the partner2 and residence region pf the partner1 - Year 2018
Table 2.13
Civil partnerships by birth region of the partner1 and residence region pf the partner2 - Year 2018
Table 3.1
Civil partnerships by sex and type of couple - Year 2018
Table 3.2
Civil partnerships by type of couple, region and geographical repartition - Year 2018
Table 3.3
Civil partnerships with at least a foreign partner by the first 15 countries of citizenship - Year 2018
Table 3.4
Civil partnerships with both foreign partners by country of citizenship and comparison of citizenship - Year 2018
Table 3.5
Civil partnerships with both foreign partners by the first 15 countries of citizenship - Year 2018
Table 3.6
Civil partnerships by type of couple and area of citizenship - Year 2018
Table 3.7
Civil partnerships by type of couple and education level - Year 2018
Table 3.8
Civil partnerships by type of couple and marital status - Year 2018